Toyota Highlander Takes on Dodge Durango in Cedar Rapids
Cedar Rapids drivers have a hard decision to make when choosing from the current SUV market, and high on many lists are the new 2014 Dodge Durango and the 2014 Toyota Highlander. Shoppers demand a lot from today's automakers, especially in the SUV segment, but in order to compete, you have to deliver! Let's take a look at two of the favorites on the road today!
SUVs have made significant progress over the past few years. They are now more fuel-efficient and versatile, while maintaining the spaciousness, pulling power, and off-road capability that made them so popular during their rise in the 1990s.
2014 Dodge Durango Overview
Two redesigned versions of popular SUVs were unveiled at the 2013 New York International Auto Show: the 2014 Toyota Highlander and the 2014 Dodge Durango.
Both offer space, comfort, and versatile driving, but which one is superior? When compared side-by-side, it becomes clear that the 2014 Toyota Highlander falls short of the competition.
Exterior Presence: Drivers want a car that looks good inside and out, and while the 2014 Toyota Highlander was completely redesigned from an exterior standpoint, it still lacks the wow factor that has made other SUVs best sellers in Iowa and the rest of the country.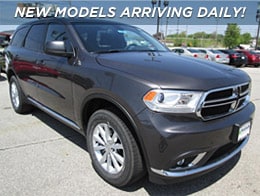 The styling of the Highlander is still bland, especially from the rear, where attempts were made to improve the rear gate and taillight area. Viewed from behind, the 2014 Toyota Highlander looks more like a minivan than a fully capable SUV.
The 2014 Dodge Durango has a great new look, especially with the racetrack inspired rear-end with LED lighting wrapped around the taillights. With a new mesh style grille and sport wheels, the re-styled Durango is a compelling SUV.
Under the Hood: After you get past the 2014 Highlander's new body style, it's basically the same as the 2013 model. The engines are carried over, including the much criticized base 2.4L four-cylinder, which was infamous for its lack of power and performance.

The 2014 Dodge Durango, however, is getting some all-new machinery, including a 3.6L Pentastar V6 mated with a fuel-saving eight-speed transmission. This will provide smoother acceleration and a better overall driving experience. The 2014 Durango will also have an available 5.7 Hemi V8, capable of churning out 360 horsepower.
Rough Roads or No Roads: Like many SUVs, the 2014 Dodge Durango is available with rear-wheel drive, but all-wheel drive is available with any engine package. In the 2014 Toyota Highlander, all-wheel drive is not available on the base engine. If you want all-wheel drive, you'll have to shell out some extra dough.
Clearly, the Durango is superior to the 2014 Toyota Highlander. With more options, better styling, and more powerful engines, the new Durango beats the Highlander everytime.
---
Dodge Uconnect System
The 2014 Durango comes with the exclusive Uconnect infotainment system, your one-stop interface to access features like hand-free calling via Bluetooth, voice texting, GPS navigation assistance, weather updates, Sirius XM radio, plus access to your favorite apps like YouTube, Pandora and so much more!
---
Get $500 More for Your Trade!

Looking to trade in your vehicle? You're in the right place! McGrath specializes in used vehicles and is in constant need of quality inventory. Our commitment to maintaining the biggest and best selection in Eastern Iowa enables us to pay top dollar for trade-ins. What's that mean for you? It means McGrath will give you up to $500 more for your trade°! With our Kelley Blue Book Trade Assessment tool, you can begin the process of accurately assessing the value of your trade right now!
Join Our Family on Facebook!

McGrath has made car payments for dozens of our shoppers just for posting a photo with their new McGrath vehicle on Facebook*, and you could be next! Join the McGrath Family of Dealerships community and follow us on social media! Along with the latest news and vehicle offers, you'll get opportunities to win cash and prizes!
Follow Us on Facebook!
---
Pat McGrath Dodge Country in Cedar Rapids is Your SUV Destination!
When you are ready to step into the best SUV available, visit us at Pat McGrath Dodge Country in Cedar Rapids. We'll help you find the perfect sport utility to match your needs and your budget.
Call Pat McGrath Chrysler Jeep Dodge today at (888) 902-8414 to learn more about out superior service and outstanding inventory.
If you have any questions about a specific vehicle, fill out our Contact Form and we'll reach out to you with more information.
---
Back to Top
° Car value based on current auction value and clean trade-in value less 40 cents per mile over 10K per year plus deductions and    reconditioning
* Photo taken by McGrath staff upon vehicle delivery and must recieve 150 Likes on Facebook to receive car payment not exceeding $250