The Chrysler 200 Convertible vs. the 2013 Ford Mustang Convertible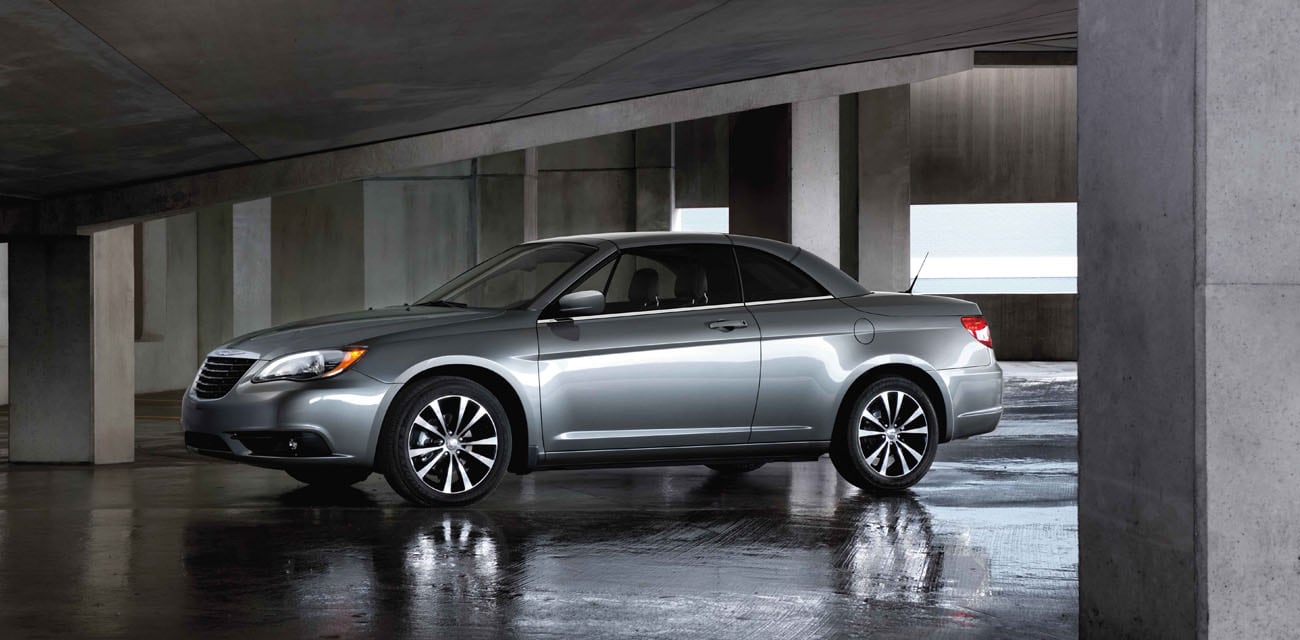 Here at Pat McGrath Dodge Country in Cedar Rapids - located at 4610 Center Point Road NE, just a few minutes west of Marion, IA - we're big fans of the 2013 Chrysler 200 Touring. Another American car that's available as a convertible is the 2013 Ford Mustang V6. Here's how these two classics compare.
Seating and Interior Features
If you're shopping for a convertible that's capable of carrying four passengers in comfort, then the 2013 Chrysler 200 Touring is for you. Both cars seat four passengers, but the 200 offers 88 cubic feet of passenger volume to the Mustang's 81 cubic feet. To top it off, the new 200 Touring has a spacious 13-cubic-foot trunk, which tops the Mustang's 10-cubic-foot trunk Weekend road trip with friends? Choose the 200, not only for space, but for the Sirius satellite radio, CD-player, and 6-speaker sound system. The Mustang comes standard with four speakers and no satellite radio.
The Chrysler 200 Touring also gets automatic air conditioning, a built-in garage door opener, and a telescoping steering wheel, none of which are standard on the Mustang. The 200 also gets power-adjustable driver and passenger seats, so you can find a comfortable position. You also get convenient features like heated rearview mirrors and fully automatic headlights on the Chrysler 200.
Performance
Both of these vehicles can offer satisfying performance. The Chrysler 200 can be had with either a four-cylinder or a V6 engine, and the Mustang gets a V6 standard. The Chrysler 200 comes standard with a six-speed Autostick multi-speed automatic transmission, while the Mustang gets a six-speed manual transmission, so the Chrysler lets you relax and let the automatic shift for you.
The Chrysler rides on stylish polished 18-inch aluminum wheels, while the Mustang gets 17-inch machined aluminum wheels. Both get four-wheel disc anti-lock disc brakes, traction control, and stability control.
Warranty
The Chrysler comes out ahead in vehicle assurance. The 100,000-mile/60-month powertrain warranty and roadside assistance trumps the 60,000-mile coverage on the Mustang. That's proof that Chrysler stands behind their vehicle.
Visit Pat McGrath Dodge Country
If you're looking for top-down, open-air motoring, then consider the 2013 Chrysler 200 Convertible. At our dealership in Cedar Rapids, we're also proud to offer the rest of the current Chrysler lineup, in addition to new Dodge, Jeep, and Ram vehicles. If you're looking for a new care, visit us today - we're certainly worth the drive from Marion, IA and the surrounding communities, and we're confident that our knowledgeable sales staff can help you find the right car for you.